Performance Materials (Functional Materials)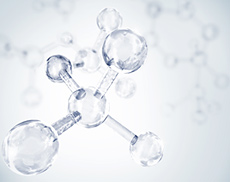 Our functional material products satisfy customer needs in the field of electronic substrate materials, inks, paints, displays and multipurpose copy machine.
Based on the requests and valuable input from our customers asking for the addition of polymer functionality, fine-tuning to target characteristics, differentiation, etc., we set a clear target and take full advantage of our R&D strengths in order to provide higher functional products.
History and future of functional materials
Since we started producing and marketing THERMOLAC? in the 1960s, we have been working to develop high-function polymers that take advantage of the transparency of acrylic polymers and flexible designability of polymers. Our expertise in polymerization technology and polymer design that was accumulated over more than 50 years has earned us immense trust and respect in a wide area of applications including electronic materials, paint and ink. To further open up the possibilities of functional resin, we are developing products for capacitors.
Our products have built a solid reputation thanks to our continued efforts to create new products and provide functionality from the customers' perspective. This motivates us to create new products and expand our markets, applications and fields.